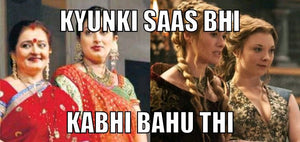 Why I started The Cute Pista
A bit of a background:
I grew up in a small neighborhood in northwest London, and our front door was always wide open so that the local bas and dadas could pop in for a cup of cha and discuss (in great detail) the latest episode of Kyunki Saas Bhi Kabhi Bahu Thi.
As a result, my childhood had been plagued with Bollywood movies and Indian melodramas, and this is the sole reason why I cannot for the life of me remember the lyrics to the latest Kanye track, but still randomly burst out in an operatic version of G.U.J.J.U for no good reason.
I find an odd beauty in the mish-mash (and sometimes utter confusion) that ensues when cultures collide, and the memories created during my formative years still greatly influence my interests and hobbies till this day.
The Big Move
I moved to the U.S. at the age of 18, along with my parents and two younger siblings. Funnily enough we had never even moved homes in London, so this was definitely a big change for us. The South Asian community, in a variety of facets, became our solace and way to make new friends in an organic way. I started a bhangra team, my sister joined her college's Hindu student association, my dad joined a local bowling team and my mum attended a spiritual community. We slowly started to branch out and make long-lasting friendships.
Creative lull
When I started college as an architecture undergrad, I developed an immense and deep appreciation for the arts, and expressed myself through illustrations, model making, painting and dance. I felt that passion slowly subside as I started the grind of a 9-5 job. As the years went by, design seemed like a thing of the past.
Fast forward to last month. I had this nagging feeling that my professional career was inhibiting my creative voice, and I really felt the need to do something for myself to have a better work-life balance. I thought I was just having an off-day, but the feeling wouldn't go away.
One day, I was on the phone with my sister and randomly spurted out "I'm going to start making illustrations for fun". She was so encouraging and is way more apt at social media than I am, so she gave me a quick refresher on the basics of Instagram and Facebook. I didn't think too long and hard about it, and lo and behold here I am.
My aspirations
The Cute Pista combines my love for art and illustration with the unique viewpoint as a first-generation Indian. It is incredible to witness South Asians permeating mainstream culture, and I want to celebrate this in a light and playful manner.
I've been fortunate enough to be able to pursue design in my free time, and I hope my work brings a smile to people's faces and inspires others to follow their passions, even when "adulting" may come in the way.